The Foods and Nutrition Laboratories are equipped with advanced analytical instruments for molecular, biochemical, and food analyses.
Proximate Composition Analysis
Nitrogen Analyzers: An Elementar rapid N exceed nitrogen analyzer is used for nitrogen and protein quantification based on the Dumas method. A Foss DT 208 Digestor and a Kjeltec 8200 distillation unit are available for nitrogen/protein analysis based on the Kjeldahl method.
Spectroscopy
Fourier-Transform Infra-Red (FTIR) Spectroscopy
Manufacturer:  Agilent
Model: 4300 handheld FTIR (spectral range: 4500-650 cm-1)
Chromatography
Fast Protein Liquid Chromatography (FPLC)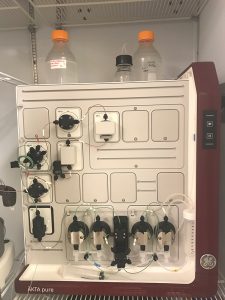 Manufacturer: GE Healthcare Life Sciences
Model: ÄKTA pure 25 L
Configuration: System pumps (up to 25 mL/min, 20 MPa), gradient mixer, injection valve, 280 nm UV detector, conductivity detector
Software: UNICORN 7
Accessory: Fraction collector, chromatography refrigerator
Media: CNBr-activated Sepharose 4B, Con A Sepharose 4B, DEAE Sepharose Fast Flow, Protein G Sepharose 4 Fast Flow, Sephacryl S-200 High Resolution, Sephacryl S-300 High Resolution
Application: Protein purification
High Performance Liquid Chromatography (HPLC)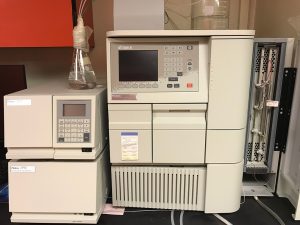 Manufacturer: Waters
Model: Alliance e2695
Configuration: Waters 2998 Photodiode Array Detector, Waters 2475 Multiwavelength Fluorescence Detector
Software: Empower 3
Application: Chemical separations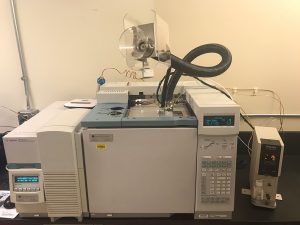 Gas Chromatography/Mass Spectrometry-Olfactometry (GC/MS-O)
Manufacturer: Agilent
Model: 6890 Network GC, 5973 Turbo MSD
Configuration: Gerstel Olfactometer
Software: Chemstation G1701
Application: Odor detection and identification